The Dangers of New Construction Homes in Canfield
2/15/2021 (Permalink)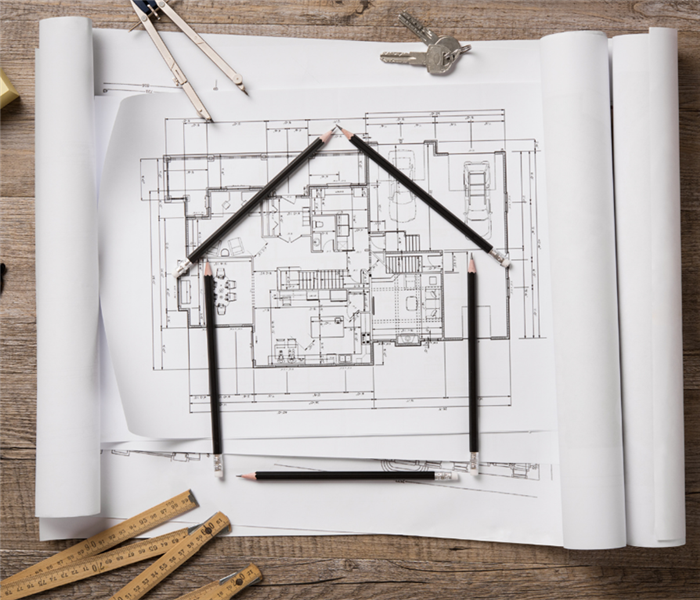 Pre-World War II, most homes used a very basic floor plan in which the main hallway served as a kind of artery that provided access to branch rooms.
Building your own home is a dream of many. Looking at the layout of new construction homes versus homes built prior to the 1990's, there is one major difference…open floor plans.
Pre-World War II, most homes used a very basic floor plan in which the main hallway served as a kind of artery that provided access to branch rooms serving specific functions. The open floorplan concept was made popular in 1990's for better organization, more family interactions between rooms, and a better layout when it comes to entertaining.
The "open layout" concept no doubt has its perks. But you may be surprised to learn one of the biggest hazards when it comes to the "open concept" layout, and it has to do with fire. Did you know that new construction homes burn faster and more violently than old homes? Why? Allow SERVPRO of West Mahoning County to explain.
Building materials have much to do with why a new home burns faster. New building techniques typically use engineered building materials instead of the traditional wood and bricks. These products might be better for the environment, cheaper and lighter to work with, but they burn faster due to their composition and reaction to heat.
On an older home, the walls and doors helped contain the spread of flames and limit fire and smoke damage to the rest of the property. But when it comes to open concept homes---there isn't anything to stop or even slow the flames. Without this containment---the fire will spread more quickly.
Modern windows are a highlight for any homeowner. The "vinyl" look versus the wooden frame of an older widow is much desirable. But these are a larger fire hazard as well. A vinyl window creates more of a chance of "flashover." Flashover is when most of the combustible materials in the room reach their auto ignition temperature and start burning and emitting flammable gases. This can happen to a wooden pane window, as well, but at a much slower rate than the flammable vinyl.
Although all the above dangers are valid the greatest threat to a modern home is due to the synthetic furnishings. In an older home, the furniture was made from wood. Nowadays, furniture is made from polyurethane foam and composites. This creates a much faster burn. Almost all modern carpets and drapes also have synthetic backing and fibers. These synthetic ingredients burn more toxic and faster than its older counterparts.
Back in the 80's, the suggested time to get out of the home was recommended at 15-20 minutes. Today, the recommended time is limited to no more than 3 or 4 minutes. Now that is a major difference!
In the unfortunate situation of a house fire; you will need to have a restoration company who cares. Open floor plan or not---SERVPRO of West Mahoning County has seen it is share of house fires in the Valley. This is the cornerstone of our business, and we are the #1 local fire restoration company in the area.
If you need cleaning or restoration services, call SERVPRO of West Mahoning County @ (330) 609-8543.
Follow us on Facebook to stay connected and receive tips and ideas about further preparing your home or business for a fire.