Wind, Thunder, and Rain…Oh My!
6/26/2020 (Permalink)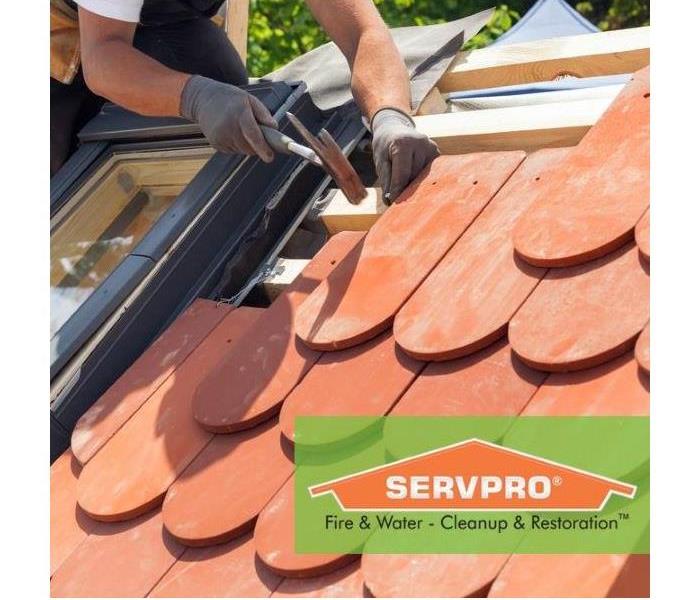 The best way to prevent unexpected and serious roof damage is to inspect your roof at least twice a year.
Summer storms have the potential to pop up quickly, cause unexpected damage, and then leave by the morning. More specifically, strong winds can cause trees and tree branches to topple over and find a new home on your house or blow shingles off your roof.
The four areas of your home that are most commonly damaged are roofs, windows, doors, and garages.
Before even hearing news that a severe storm carrying strong winds is on the way, there are several steps that you can take to protect your home from serious wind damage.
Maintain Landscape and Trees
Pay close attention to any trees that surround your home. Wind can cause tree branches to break off or the entire tree to fall, which can pose a serious threat to the structure of your home if the tree is planted too close.
Be mindful not to over-water trees, usually just the rain provides enough water in Northeast, Ohio. Over-watering your trees often results in shallow, weak root systems, which increases the chances of the tree taking a spill into your yard or house.
In addition, objects such as patio furniture, grills, or other backyard items can grow some wings and fly away during strong winds.
Inspect the Roof
When was the last time you were on your roof? Probably not last week.
Since they are not in our usual line of sight, sometimes we are not aware of the condition of our roofs or shingles until serious damage has been inflicted upon them.
The best way to prevent unexpected, serious roof damage is to inspect the roof at least twice per year. Look for signs of damage such as loose or missing shingles and water damage in the attic.
If you are not a "climb onto my roof" type of person, then hiring a professional can provide insight and possible suggestions to make sure your roof stands the best chance of surviving the storm.
Finally, if possible, it may be beneficial to invest in weather-resistant shingles the next time they need to be replaced.
Reinforce Windows and Doors
Storm shutters on windows and doors can help protect them from flying debris caused by strong winds. You can purchase storm shutters or make your own by nailing plywood to windows and doors.
Lastly, if particularly strong wind is expected, garage door bracing kits can be useful, which will help keep the garage door in place during the storm.
Call SERVPRO of West Mahoning County today if your home or roof incurs damage from a storm! We are always ready to help at a moment's notice. (330) 609 8543
Or connect with us on Facebook.