Commercial HVAC System Cleaner in Austintown, Ohio
3/11/2019 (Permalink)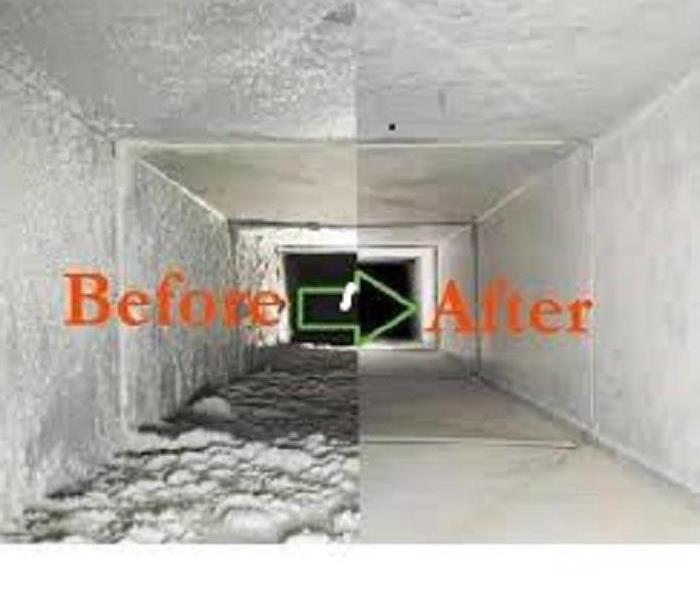 Although heating, ventilating and cooling systems vary in terms of size and capacity for residential and commercial properties, comfort still remains the goal. To ensure a comfortable and healthy living/work space requires periodic maintenance and cleaning of your HVAC system.
The biggest difference in residential and commercial systems lies mostly in the size of the unit. Each are designed to serve the needs of different spaces. Commercial systems are often larger and contain more components such as condenser fans, blowers, compressors and thermostats.
Commercial HVAC systems also have all the parts housed together and it allows for easy maintenance and upgrade. For a commercial unit, you need highly experienced and skilled technicians to ensure a perfect installation, efficient maintenance and energy efficiency.
Once installation is complete, a regular maintenance schedule should be implemented to ensure system efficiency is maximized. Keeping them clean can extend the life of the system. This will save you money and give you cleaner air to breathe.
However, duct cleaning is not always necessary. SERVPRO of West Mahoning County will make recommendations about the best way to address any indoor air quality concerns. This can save you money and provide peace of mind on the health of your system.
The benefits of servicing your HVAC unit include:
Helps to restore peak energy efficiency.
May help to eliminate offensive odors.
Helps reduce the potential for mold growth.
At SERVPRO of West Mahoning County, we have the equipment, knowledge and resources to clean HVAC and duct systems of any size in your home or business.
For more information on HVAC and air duct cleaning, call SERVPRO of West Mahoning County at (330) 609-8543 to set up a regular maintenance schedule for your HVAC system.